With 32 years experience in home care making us Ireland's longest established home care provider, it was a logical step for us for to open our own home health care training department in 2016. Our QQI Accredited Programmes are delivered in association with The Cpl Institute, an accredited QQI Provider.

Why is Training Important?
The nature of caring means we are going into people's homes, into their private space. Often our clients can be vulnerable, due to ageing or a variety of ailments. So it is essential that carers are trained to ensure they carry out their responsibilities correctly and safely, with empathy and respect.
Our ethos is that we care for others as we would like to be cared for ourselves. To truly deliver on this, we operate to the highest standards. As we are a HSE approved supplier, we must also meet – and prove that we meet – their rigorous standards also.
For all of these reasons, carers must meet a minimum criteria of qualifications to be offered work as a carer.
Download our Training Brochure
Read carer stories to see how training has transformed their careers. Find out more about our approach to training and to meet our training team.
Family Carers: Why Choose Private HomeCare for Training?
Caring for a loved one can be extremely rewarding but also exhausting.
Team with Private Home Care for peace of mind for you and your family members.
Browse our family care courses. They will teach you practical and safe skills essential for caring.
Learn about moving people safely, to protect you and your loved one.
Learn from other family carers in our small and friendly classroom settings.
Consider booking one of our trained carers to complement your family care rota.
Get in touch with us in the event you need respite cover.
Benefit from the advice of our highly experienced and empathetic client administrators.
We are here for you. You are not alone.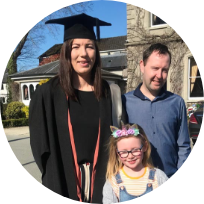 In the last 12 months, I have transformed my work as a carer into a longterm career with Private HomeCare Training Centre.
SINEAD O'NEILL
Carer and Graduate from Class of 2019, Private HomeCare


Private Home Care Training Course FAQs
Do you have any questions?